To All of our Families;
We do request all families bring a copy of your current insurance card with you to every visit and we will also verify ID at each visit.
Effective April 10th, 2023, we are beginning our return to more normal office operations. What that means for you specifically is that while masks are still required in the office, we are no longer doing asymptomatic testing prior to your appointment. Also, the schedule is more flexible so you can schedule your well or sick visits throughout the day. If you have any questions at all, please do not hesitate to ask. As always it is our pleasure to continue to service the children of our community.
Please be aware that we do not have a grace period and if you arrive late for your appointment you will have your appointment rescheduled and there is a $25 "missed appointment fee" that will need to be paid before the next appointment can be made.
McKnight Pediatrics monitors the changes occurring and policy recommendations being made on a daily basis. We will make changes accordingly.
Please do not hesitate to call us if you have questions. Stay tuned for updates.
Thank you for choosing McKnight Pediatrics! Here you can learn a little about us, how to reach the office and what services we offer.
Welcome!
Welcome to our website! First, we'd like to thank you for your interest in us and for taking the time to search for us. We hope you will like what you find and we invite you to return frequently. Next, we'd like to extend our gratitude for the many families who continue to entrust us with the care of their children. Without you we could not exist. We thank you for choosing us, trusting in us, and allowing us to be a part of your village.
We hope that you find our website helpful, informational, and easy to navigate. We welcome any and all comments. Click on the 'Contact Us' tab to learn how to send comments.
Bon voyage!
Providers
Marjorie B. McKnight, M.D.



Dr. McKnight is a native Washingtonian and graduate of Howard University and George Washington University Medical School. She has practiced pediatrics in Washington, DC since 1986. While practicing general pediatrics, her passion lies in wellness and disease prevention.
Dr. McKnight's interests outside of practice include gardening, cooking, walking, swimming and spending time with family and friends, especially her grandchildren Carter, Chase, Claude, and Noa.
Hugh Calkins, M.D.


Dr. Calkins was born at Andrews Air Force Base before moving to the Pacific Northwest. He completed a pediatric residency at Crozer-Chester Medical Center and was honored with the Gerald B. Kolski Award for Outstanding Dedication and Teamwork for two consecutive years by the residency program.
His interests outside of pediatrics include outdoor activities, such as running and biking, spending time with family and friends, and immersing himself in the community to help and serve others. He balances his love for science with photography.
Melissa Williams, MD



Dr. Williams was born in New York and grew up in New Jersey. She moved to the DC area to attend college at Georgetown University where she obtained a Bachelor of Science with a major in Human Science. She then became a middle school teacher for DC Public Schools which reinforced her passion for pediatrics. Dr. Williams then attended medical school at Howard University College of Medicine. Her residency training was completed at UPMC Children's Hospital of Pittsburgh. Throughout her medical and residency training she was dedicated to patient advocacy, social determinants of health and reproductive health.

Her interests include travel, baking, exploring new restaurants, visiting museums, and spending time with her friends and family.

Christal Achille, MD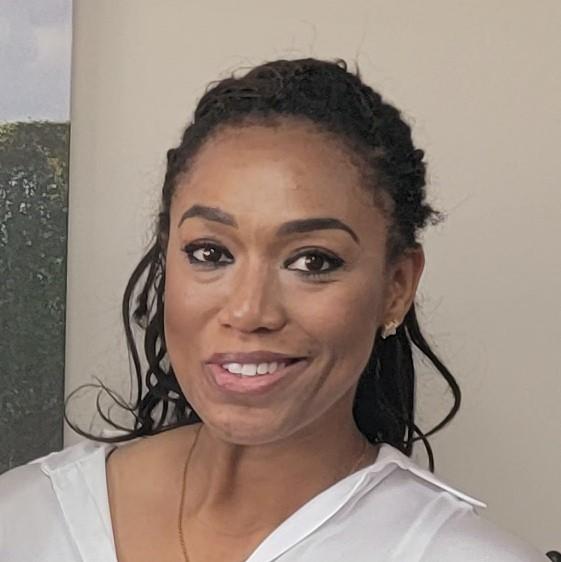 Dr. Achille is a pediatrician originally from Long Island, New York. She received her Bachelor's from George Washington University and her medical degree from George Washington University Medical School. She completed her pediatric residency followed by an endocrinology fellowship at Stony Brook University Hospital. Prior to joining McKnight Pediatrics, Dr. Achille practiced Pediatrics on Long Island. She is particularly interested in promoting healthy lifestyles and works closely with her patients and their families to educate them on how to maintain good health.
Outside of pediatrics, Dr. Achille enjoys the creative arts including calligraphy, singing. She also enjoys staying active and exploring DC.
Staff
Our front office staff works together as a team to ensure the practice operates effectively and efficiently. Their responsibilities include answering your calls, taking and sending messages to the doctors, scheduling appointments, maintaining your records, and providing assistance during your visit among many others.
The members of our front office staff are: Dorian Degrandez, Tenisha Lysaith, Maya Butler, and Connie Keeton.
Stephanie Redmond, our Office Manager, has been with the practice since 1992 and knows all there is to know about the office. She is always happy to help you in any way. Stephanie is also a parent in the practice.
Kyle Butler-Myers is our Operations Manager who re-joined the practice in March of 2019.
Dorian Degrandez is an administrative assistant who joined our practice in May of 2021.(seen below)
Tenisha Lysaith is an administrative assistant who joined our practice in December of 2021.
Tiffany Best is a billing specialist who has rejoined our practice in September of 2022.
Maya Butler is an Administrative Assistant who has rejoined our practice in January of 2023.
Connie Keeton is an Administrative Support Assistant who joined our practice in January of 2023.

Our clinical office is outstanding! We are fortunate to have well qualified, well trained medical assistants who all began their careers with our practice. They work every day to deliver the best possible care to you and your children. In addition, they strive to get to know your children, to ease their fears and to comfort them when needed.
Angelica Lara is a medical assistant who joined our practice in August 2012.
Chante Cobb is a medical assistant who has re-joined our practice in April of 2022.
Allison Holguin is a medical assistant who has re-joined our practice in September of 2022.
Brittany Boone is a medical assistant who joined our practice in January of 2023.
Patient Portal
The Patient Portal is now up and running! Click the link below to login.
Contact the office to set up an account. You will need to provide an email address and we will web enable you so that you will be able to access the portal. You get one set of login information per child. If you are unable to remember your information or get locked out then please contact the office, so we can reset and resend your information. Passwords last for seven days, so please try to login within the week you receive the login information. New patients can pre-register before their first appointment with the practice.
Although you can currently do a lot with the portal, there are some features that are not enabled yet.
- You can view when your next appointment is, but you cannot schedule or cancel one. You must still call the office to do that.
- You can view patient visit summaries. This is the printout you usually receive at checkout after an appointment.
- You can view and print out a immunization records at home.
- You can view normal results labs. If an abnormal result occurs, the doctor will reach you.
- You may send a general message to the practice or a message about a prescription refill, but the portal is monitored by the front office staff, not the doctors. You cannot directly message the doctors.
- Please fill out the family history questionnaire as soon as possible. You can find it under the "Questionnaire" tab with the developmental checklists..
Office/Change of Information Forms
New Paitent Form.doc
Request records TO McKnight Pediatrics.doc
Request records from McKnight Pediatrics.doc
Permission to Publicize Graduation Announcement.doc
Office Information
Mon - Fri: 7am - 4pm
Sat: 8am-12pm
Visits by appointment only.
$25 fee for missed appointments and same day cancellations; $75 fee for missed consult appointments Travel vaccines are available for our patients. Please call the office for more information.
106 Irving Street NW Suite 2300 Washington DC 20010
(202) 291-6257 Fax: (202) 726-4926
info@mcknightpediatrics.com
Accepted Insurances:
Aetna (HMO, POS, & PPO)
Amerihealth Caritas DC
Carefirst BCBS (HMO, POS, & PPO)
Cigna (POS & PPO only)
Medstar Select
PHCS
Tricare
United Healthcare (POS & PPO only)
Services Provided:
All routine pediatric care for newborns through 21 years, travel vaccines and ear piercings for all ages, and informational workshops are available for our patients.
Flu vaccines are by appointment only, please call the office to set up an appointment.
Requests for any records from the office can be made in person or requires a signature from parent. This request form can be filled out in the office or faxed.
The practice only accepts school forms by:
1) mail with a self-addressed stamped envelope including payment of $25.00 per child
2) walk-in with the form and payment
No fax or email
We have a 10-14 business day turn around period. Call first to confirm forms are completed prior to pick-up. If needed, please call to schedule a physical in advance.
Please call the office for more information.
Workshops:
COMING SOON!!!